You have choices and you're not alone.
Understand your criminal and civil legal options.
What legal options do survivors have?
If you are pursuing legal action, there are two types of proceedings – criminal and civil. You can pursue one, the other, or both.
Managing Partner of Hammerco Lawyers LLP, Morgyn Chandler, breaks down the difference between criminal and civil proceedings and role the survivor plays in each.
If You Are Ready To Tell Your Story,
You Have Legal Options
Sexual assault is a tragic, life-shattering experience that can have long-term effects on survivors. If you or someone you care about is a survivor of sexual abuse or assault, there are some important things you should know about sexual assault and the law.


Whether you were assaulted recently or decades ago, there is no time limit in Canada for you to bring a claim against a person or organization responsible for a sexual assault. 


There are criminal cases, and there are civil cases. In criminal cases, the police decide if your attacker will face criminal charges and the Crown Prosecutor decides if the case will go through the courts. Criminal cases can lead to conviction and punishment such as jail time and a criminal record. In civil cases, you start a lawsuit against the assailant, seeking financial compensation for the harm you suffered due, and to hold your attacker accountable for what happened.


There can be one or the other or both. The main difference between criminal and civil cases is the standard of proof. It's more difficult to prove someone's guilt in criminal court.


Hammerco Lawyers has an experienced team of civil litigators who represent sexual assault survivors in civil lawsuits. We understand the need to have a safe place where you can tell your story and discuss your legal options with a lawyer who can offer clear, candid, and compassionate advice about bringing a claim. Your well-being is our priority.
Sexual abuse survivors come from all walks of life.
Helpforme.ca Resources created by lawyers to help you understand your legal options.
What are common types of sexual assault?
Childhood Abuse.
Adults who were abused in childhood were too young to fully comprehend or articulate what was happening to them. Some children may have tried to tell someone but no one believed them, while others may have been too embarrassed or didn't know who to turn to and so suffered in silence. It's important to remember that a child cannot consent to abuse.
Workplace Sexual Assault.
Everyone has the right to a safe and respectful work environment. If you have experienced sexual assault by someone at your workplace, you have legal options.

Workplace sexual assault is one of the most common types of assault in Canada—and one of the most under-reported.

We include employer responsibility in our investigation. Employers are responsible for the actions of their employees and creating a safe environment. If you have experienced sexual assault in the workplace, your employer can also be held accountable for the actions of their employees if vicarious liability is determined.
Institutional Sexual Assault.
There is no time limit on bringing forward a childhood sexual assault or abuse claim in B.C. If you are a survivor of abuse that occurred at a youth organization or institution, it is never too late to come forward.
Intimate Partner Violence.
Consent is still required in intimate or romantic relationships when it comes to sexual interaction. Sexual violence at the hands of those closest to us is unfortunately not uncommon.

On average, it takes seven times for survivors to leave their abusive partner. Intimate partner violence can be physical, sexual or psychological.
Sexual Assault by Healthcare Providers.
Sexual assault by healthcare providers can take many forms, including unwanted sexual or physical contact. There are civil remedies available to you, and it's never too late to come forward.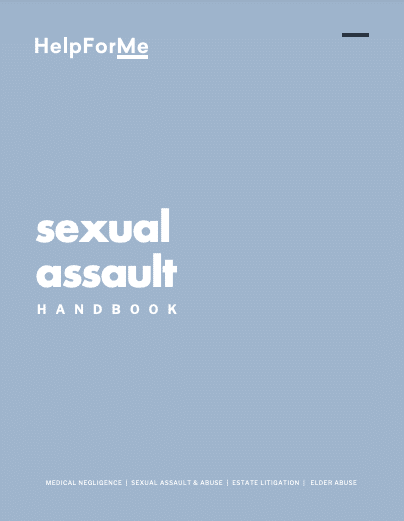 Download the Sexual Assault
Legal Options
Handbook
Breaking down your criminal and civil legal options.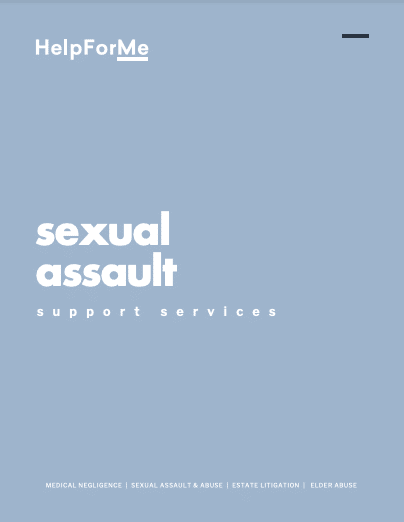 Download the Sexual Assault
Support Resources
 Handbook
Information on support services available to you.